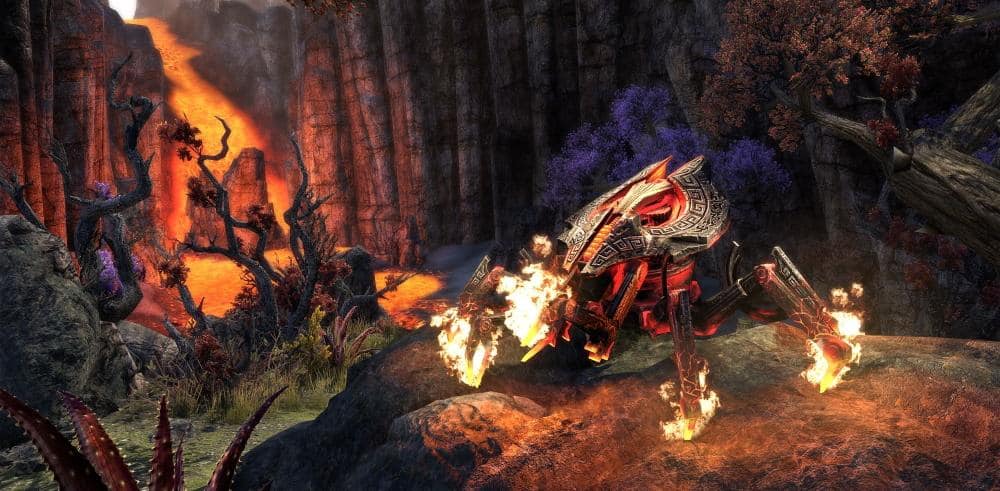 You can get your hands on a one-of-a-kind pet simply by opting in to marketing emails by February 8, 2021.
If you didn't have the chance to snatch up a free Infernium Dwarven Spiderling pet the last time we offered it, now is your chance to finally claim this free reward by opting in to receive marketing emails. Note that if you've already received this free pet the last time we offered it, you are not eligible for this offer. However, if you're yet to own this arachnid automaton, here's exactly what you need to do to get your hands on this arachnid automaton.
Verify Your Email
To see if you have a verified email address, log in to your ESO account on the official website. If you can log in, congratulations! You have a verified email address.
If you are on console and have not verified your email, you can find instructions for both PlayStation®4 and Xbox One in this help article. If you are having trouble logging in to your account, you can recover your account using this form.
Opting In to Email
To opt in to marketing emails, log in to your ESO account, navigate to your Options menu, and then select Account. From there, under "Marketing Preferences" you can enable marketing emails.
You can also do this from the official website. From your account page, select "Marketing Preferences" under the Account Summary section, then check the "I would like to receive news about new events and promotions" box and select "Save."
By opting in to marketing emails, you'll receive information on latest news, trailers, sales, and more. You can opt out of marketing emails at any time by changing your Marketing Preferences as noted above (or using the unsubscribe feature included in our marketing emails).
The Infernium Dwarven Spiderling returns!
Easy! So long as you've a verified email and have opted in to receive marketing mailers by February 8, 2021, you will receive this free pet.
We will email a code for the Infernium Dwarven Spiderling pet during the month of February 2021, so keep an eye on your inbox. Once you have received it, you can redeem your code by navigating to the in-game Crown Store and selecting "Redeem Code" from there. You can also log in to your account on the official website and select the "Redeem Code" link under Account Summary.
If you have any questions or concerns concerning getting your new pet, please don't hesitate to contact our support team on Twitter or the Help Portal, or reach out to us directly via Twitter, Instagram, or Facebook.