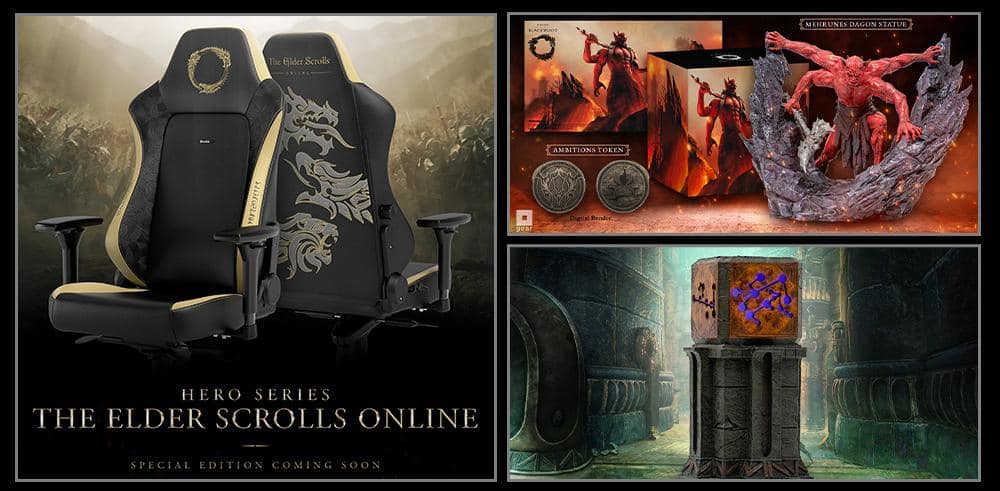 Check out some of the awesome Elder Scrolls Online items you can pick up from our official NA and EU merch stores, Noblechairs, and Cook and Becker!
A host of great artwork, apparel, and collectibles are available right now on the Bethesda Gear Store, including:
Limited Blackwood Tee
Gear up with a limited-edition t-shirt that celebrates the announcement of The Elder Scrolls Online: Blackwood.
This unique version features a special light-grey print on black that won't be available on any future Blackwood tees, and it's only available in the store for two more days—don't miss it!
Mehrunes Dagon Premium Bundle
Get ready for the Gates of Oblivion year-long adventure and proudly showcase your devotion to the Prince of Destruction with this special bundle, including a Mehrunes Dagon statue, a collectible Ambitions Token, and a Mehrunes Dagon Lithograph.
Note: This print is available only in the North American Bethesda Gear Store.
Dwarven Constellation Cube
You might have toyed with one of these ancient contraptions during your adventures in Tamriel, and now you can place it on your shelf with this polyresin replica!
Note: Available only in the North American Bethesda Gear Store.
Ambitions Artifacts
Puzzle your way to the Prince of Destruction's secrets with these zinc alloy replicas of the same in-game items!
Noblechairs HERO The Elder Scrolls Online gaming chair
You can explore Tamriel (and Oblivion) in style with this officially licensed gaming chair from Noblechairs. Part of the Hero series, this model includes an adjustable backrest with internal lumbar support mechanism, now merged with premium-grade black-and-gold PU leather, gold stitching, and high-detail embroidered artwork—comfy AND beautiful!
This special edition chair is available soon, so be sure to visit their official website and sign up for updates to ensure you don't miss out!
Cook and Becker—The Elder Scrolls Online Print Collection
If you're interested in putting some high-quality prints on your wall, this collection of some of the ESO community's favorite pieces of key art from Cook and Becker might be exactly what you're after.
These Giclee art prints are available on their website with various sizes and frame options.
These are just some of the items you can find on our official online merch and partner stores, so be sure to check out everything they have via the links above and don't forget that the limited-edition T-shirt is available for only a few more days!