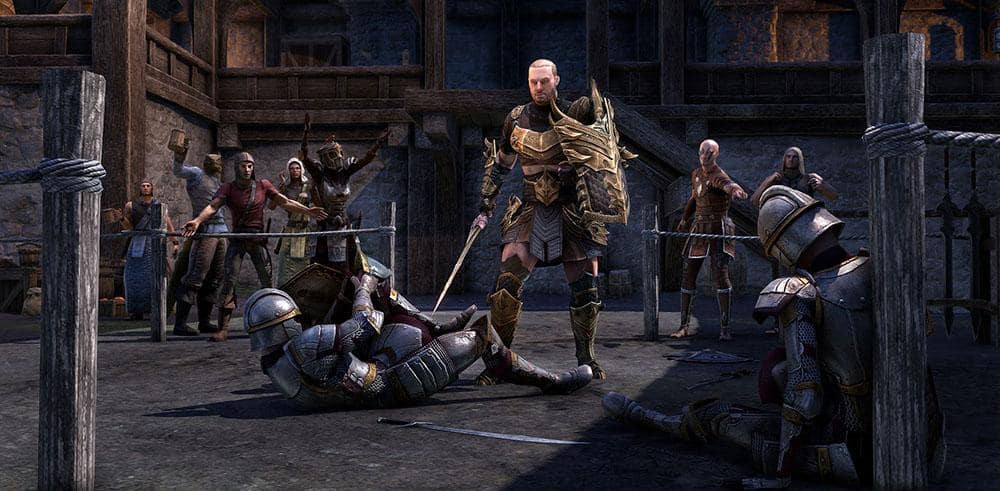 Get a free pet and rebuild your characters from the ground up during the Heroes Reforged in-game mini event.
Build A New You
To celebrate the arrival of Update 29's Champion System overhaul, we're happy to announce the Heroes Reforged mini event. Beginning with the launch of Update 29 for each platform (PC/Mac: Monday, March 8 at 10AM EST; Xbox One and PlayStation®4: Tuesday, March 16 at 10AM), this event will run for two weeks and allow you unlimited free respecs from Rededication Shrines for the following:
Attributes (Health/Stamina/Magicka)
Skills (and Morphs)
Champion Points (from the Champion Point system menu)
Note that the above start times may shift depending on when Update 29 goes live and servers open, and when you first log in, all Skills and Champion Points will be automatically reset.
While the changes coming with Update 29 impact only the Champion System, we know that you'll likely want to test many builds, so for two weeks you can reset, respec, and rebuild any and all of your characters as many times as you want for free when using a Rededication Shrine or the Champion Point redistribution function—easy!
Finally, this is not a full in-game event (such as the Midyear Mayhem or the recent Tribunal Celebration), and as a result it will not have Event Tickets or unique rewards—just free re-specializations. That's two weeks to experiment and test your builds at no cost.
Grab a Free Pet
Because Update 29 requires a mandatory skill respec (including both Champion Points and Skill Points), we're also offering the Ambersheen Vale Fawn pet from the in-game Crown Store, completely free!
The adorable Ambersheen Vale Fawn
You can find this free pet under the Pets category within the Crown Store, and it is available only during the event period for your platform—don't miss out!
The Heroes Reforged Event begins for PC/Mac on Monday, March 8 at 10AM EST, and it runs until Monday, March 22 at 10AM EDT. For Xbox One and PlayStation®4, the event starts Tuesday, March 16 at 10AM EDT, and it runs until Tuesday, March 30 at 10AM EDT.