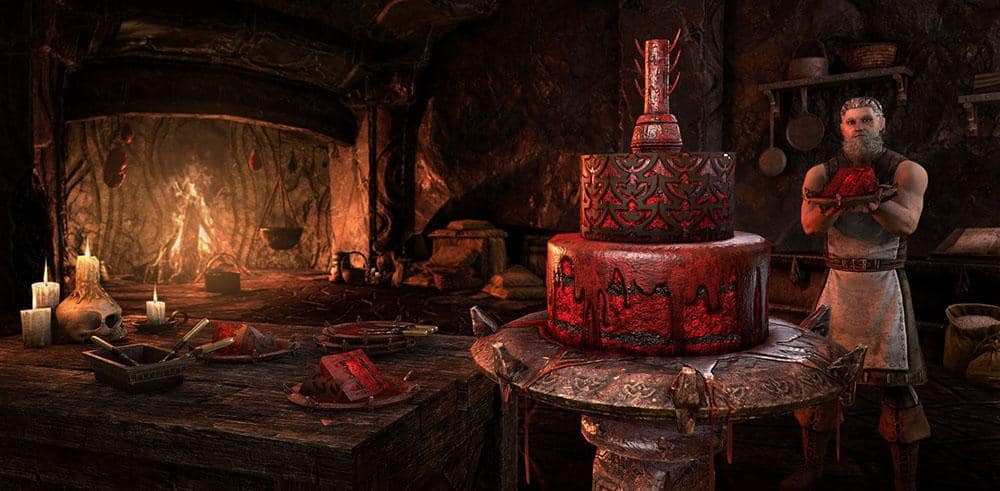 Update: Due to the recent PlayStation maintenance, we have extended the Anniversary Jubilee event on all platforms until Thursday, April 15 at 10AM EDT.

Eat cake and enjoy bonus XP and rewards during the Anniversary Jubilee in-game event and join us in celebrating ESO's 7th birthday!
ESO Turns 7!
The Anniversary Jubilee event begins Thursday, April 1 at 10AM EDT, and will run until Thursday, April 15 at 10AM EDT. During this celebration, you can enjoy a double XP boost and earn new and returning event-specific rewards.
To get started, acquire the free Jubilee Cake Voucher quest starter titled "Ache for Cake" from the Crown Store (listed under Quest Starters) and make your way to the world-famous Chef Donolon. Complete Chef Donolon's quest to receive the new Jubilee Cake 2021 tool, which you can then summon from the Tools section of your Collections menu.
The Anniversary Jubilee Cake 2021!
Each time you eat a slice during the Jubilee, you'll enjoy a two-hour, 100% XP boost. If you're thinking about leveling some new characters for the upcoming Blackwood Chapter or want to speed up the rate at which you gain Champion Points, now is your chance!
Complete Dailies, Earn Gifts
Complete any of the game's daily quests during the event period and you'll receive special Anniversary Jubilee Gift Boxes as additional rewards. Here's a list of some of the daily activities you can complete to earn these gift boxes:
Daily crafting writs
Daily Delve and World Boss quests
Daily Alliance War and Battlegrounds quests
Daily Dungeon and Trial quests
Daily Heist and Sacrament quests
Within the Jubilee Gift Boxes, you have a chance to receive a collection of celebratory items, including:
Crafting Materials
Motif pages for assorted crafting styles
Furniture Recipes
Worm Cult Motif pages
Outfit Style pages for the Jephrine Paladin weapon or armor style
NEW Outfit Style pages for the Imperial Champion weapon style
Transmutation Crystals
The Imperial Champion Weapon Style
Eat cake, complete dailies, and earn special gifts—easy!
Event Tickets & The Impresario
During the event, the first time you eat a slice of the Anniversary Jubilee Cake, you'll receive three event tickets. That means it's possible to earn 39 tickets in total by the event's end.
You can find the Impresario in Daggerfall in Glenumbra, Davon's Watch in Stonefalls, Vulkhel Guard in Auridon, and the major cities within each Chapter. Throughout the Jubilee event, she will have the following items in stock:
Unstable Morpholith base fragments

Including the Deadlands Flint, Rune-Etched Striker, and Smoldering Bloodgrass Tinder
For more on morphing collectibles, check out this guide

Two fragments for the Deadlands Firewalker personality

Including the Vial of Simmering Daedric Brew and Vial of Bubbling Daedric Brew

Group Repair Kits
Imperial Champion Weapon Outfit Style pages
Replica Jubilee Cake furnishings

Furnishing versions of all six anniversary cakes
Note: Each cake furnishing is available for purchase only if you earned their respective mementos during previous Anniversary events
Note that none of the above items are tradeable if acquired with Event Tickets from the Impresario.
This will be your first opportunity to pick up the fragments required to upgrade your Unstable Morpholith into the new Deadlands Firewalker personality.
The new Deadlands Firewalker personality

The third and final fragment for this Morpholith upgrade will be available in a future event, so keep an eye out!
Eat Cake With Us!
Join us in celebrating another milestone for The Elder Scrolls Online and enjoy event-specific rewards and an equally tasty boost to your XP. How will you be celebrating ESO's 7th birthday? Which daily activities will you complete? Let us know via Twitter, Instagram, or Facebook.