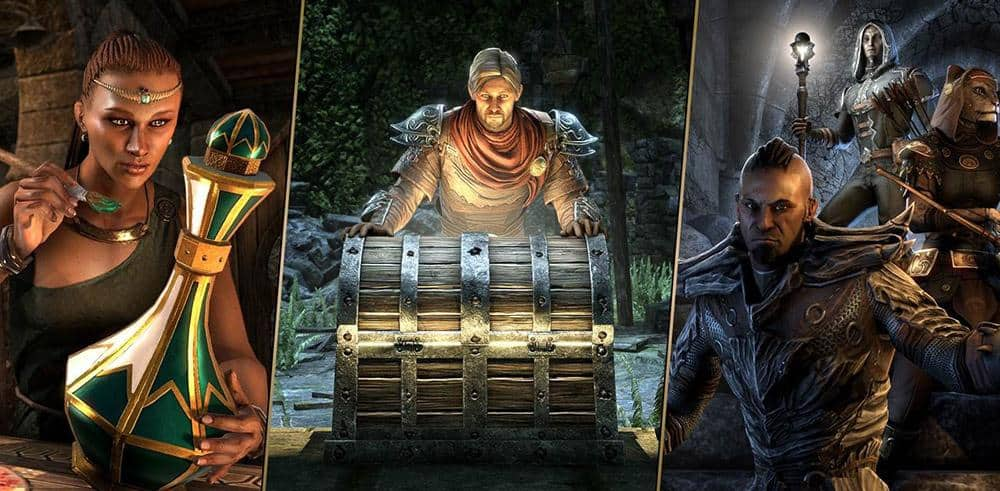 Complete new daily and weekly activities, called Endeavors, and you can earn a new currency to acquire Crown Crate items. Learn about this new system and currency here!
Endeavors
Arriving as part of Update 30 and launching mid-June, the new Endeavors system is a free addition to the ESO base game that all players can utilize. With this new system, you can complete new daily and weekly tasks, called Endeavors, that grant you various rewards (such as Gold or Experience) and a new currency called Seals of Endeavor.
Here's how it works: When you log in, you'll automatically receive various daily and weekly Endeavors that ask you to complete different tasks. These tasks vary across the different play styles and in-game activities. Here's some examples of the kinds of tasks Endeavors might ask you to do:
Steal or pickpocket items
Complete quests
Defeat enemies using Class or Weapon abilities
Sell items to vendors
Craft different types of items
Defeat different types of monsters
Harvest resource nodes
And many more!
These are just some of the activities you might be asked to do to complete your Endeavors. Often, they'll be things you're already doing in your regular ESO adventures.
Complete Endeavors as you explore, fight, craft, and more
The number of daily or weekly Endeavors you can complete each day or week will vary, so be sure to check what the cap currently is and work out which of the available Endeavors you'd like to take on. This is to ensure that everybody, regardless of their play style, has an opportunity to earn the new currency without having to complete activities they don't necessarily enjoy. Once you've reached the daily or weekly cap for completed Endeavors, the remaining ones are then deactivated. When the day is over, the daily Endeavors will reset and new ones will become available, and when the week is over, the weekly Endeavors will do the same.
You can see your tasks in the new Endeavors menu, found within the Activity Finder. You don't need to do anything to begin an Endeavor (they're all active immediately) and once after you've completed one, you automatically receive your rewards and a notification, so there's no need to claim them manually—easy!
Seals of Endeavor
In addition to other more common items, Endeavors reward a brand-new currency called Seals of Endeavor, with the amounts varying based on the day and challenge level of the Endeavors themselves.
With the new Seals currency, you can acquire any of the currently available Crown Crate items. This includes any of the crate's consumables (such as potions or XP scrolls), pets, cosmetics, or even its extremely rare Radiant Apex mounts. For the first time in The Elder Scrolls Online, you can acquire these highly sought-after items via gameplay in addition to finding them within crates. Note that any Crown Crate items you acquire with Seals cannot be converted into gems.
Acquire any currently available Crown Crate items, including XP scrolls
The Seal value for individual Crown Crate items differs, so depending on what you want to get, you might need to save up if you wish to acquire an especially rare item. You can collect and save Seals for as long as you like, and if there's nothing that takes your fancy right now, there is no cap to how many Seals you can save for later. Like crowns or gems, Seals of Endeavor are an account-based currency and not specific to any one character.
To see all the Crown Crate items and pick them up with Seals, you can access the Seals tab from the Crown Store menu. There, you can see a complete list of available items and their cost.
Coming Soon!
No matter your experience, playstyle, or edition, everybody can complete Endeavors and earn Seals. Tentatively scheduled to launch in June, once live, we'll continue to make adjustments and additions to Endeavors, so keep an eye out for any changes, too! What do you think about the new Endeavors system? Are you excited for this new way to earn Crown Crate items? Let us know via Twitter, Instagram, or Facebook.