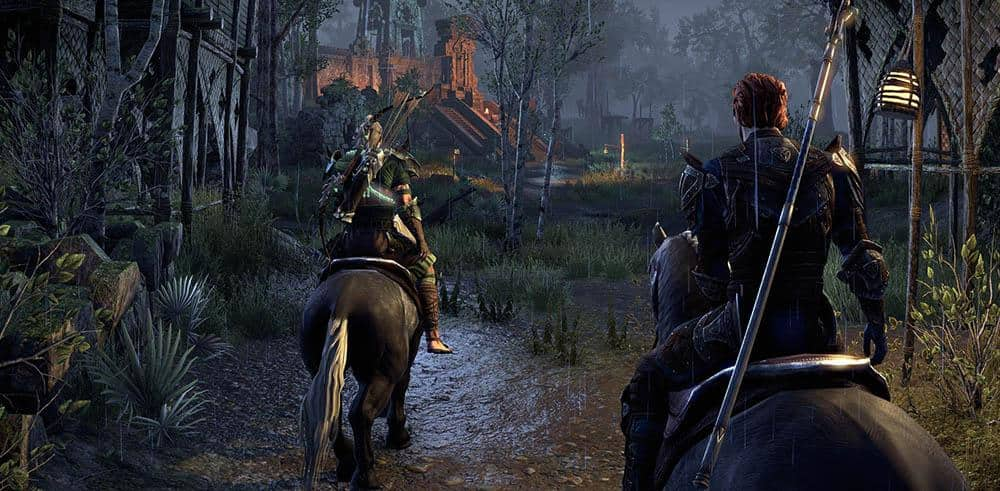 You'll never adventure alone again with the new Companions System, arriving soon with The Elder Scrolls Online: Blackwood.
Adventuring Allies
Part of the upcoming Blackwood Chapter, the Companions System allows you to recruit a new ally to fight and quest at your side during your adventures in Tamriel.
Once you've unlocked your new Companion, you will be able to equip them with gear, define their abilities, and even direct them in combat. They'll also have their own personalities, backstories, and quests, and they'll even react differently based on the way you act in your adventures.
"The goal of the Companions system is to provide you with unique adventuring allies to explore the world with who will grow under your care and provide customizable combat support," explains Philip Draven, ESO's Lead Systems Designer. "By developing your Companion to be the perfect complement to your own playstyle, they'll be able to help you tackle challenges that may have been just out of reach before and provide assistance when another player is not available to join you."

While the camaraderie and companionship associated with a new adventuring partner is nice, make no mistake, these new recruits are combat allies, and the team designed them to assist in the heat battle, including the ability for them to take on all major roles.
"Companions have abilities to fulfill all combat roles (damage, healing, tanking, and hybridization) in many common gameplay situations. However, they are not intended to replace or be as powerful as other players. If you prefer to tank, you may find a damage or healing-centric Companion to be an invaluable ally, whereas if you're more focused on damage, you may benefit from a Companion configured as a tank to draw some attention away from you."
Fight together with your Companion
At launch, you will be able to unlock two unique Companions, Mirri Elendis and Bastian Hallix, by completing certain quests in the Blackwood Chapter. After that, how you choose to use your Companions is entirely up to you.
Customizable Companions
In The Elder Scrolls Online you can completely customize the way your character looks and fights based on your own personal preferences. The team wanted to ensure this core tenant was also in place for the new Companions system as well.
As a result, you have a lot of ways to customize your Companion, including the gear that they wear (with specific Companion-based traits) and abilities they wield in combat. You can also customize their appearance, with your Companions being able to equip many of your unlocked costumes and outfit collectibles from your Collections UI. You can even choose which mount they ride!  
"Given how much flexibility you have with your characters, we wanted to capture the distilled essence of that customization and progression with Companions," explains Draven. "We want Companions to support and augment you, not overshadow, and 'Play Your Way' applies here as much as to the rest of the game."
When exploring the world of Tamriel, your Companions will be just as unique as you are.
Building a Relationship
A major part of this new system is the rapport function, where your actions, good or bad, can have consequences for your relationship with whatever Companion you currently have active.
"Rapport is meant to give the player a clear understanding of where they stand with each Companion at any given time, so they can see how their actions affect their bond," says Draven. "Each Companion's personality and preferences are distinct, so whereas Bastian may be actively disappointed with you stealing, Mirri may be indifferent or even amused."
Strike up a conversation with your Companion
As you adventure together, the level of rapport between you and your Companion will go up and down, depending on what kind of activities you engage in. These changes in rapport will have a real effect on the characters, too. As you build your relationships with your new allies, you'll unlock new dialog options, Companion-specific quests, and the ability to add your Companions to your homes as houseguests!
You'll always be able to see your current rapport with your active Companion from the Companions UI, so keep this mind when planning an evening's adventures; you might want to take the right Companion for the job.
New Allies (and Stories) Await
With the upcoming Blackwood Chapter, you'll never have to adventure alone again, but how you choose to interact, equip, and fight with your new Companions is entirely up to you. Are you excited to recruit Mirri or Bastian and begin your adventures together? Tell us which Companion you're most excited to interact and fight with via Twitter, Instagram, and Facebook.
The Elder Scrolls Online: Blackwood arrives on PC/Mac and Stadia* on June 1, and on Xbox One, Xbox Series X|S, PlayStation 4, and PlayStation 5 on June 8. Pre-purchase Blackwood now to receive unique bonus rewards and gain immediate access to the Nagahide Welwa Ravager mount. Don't miss out!