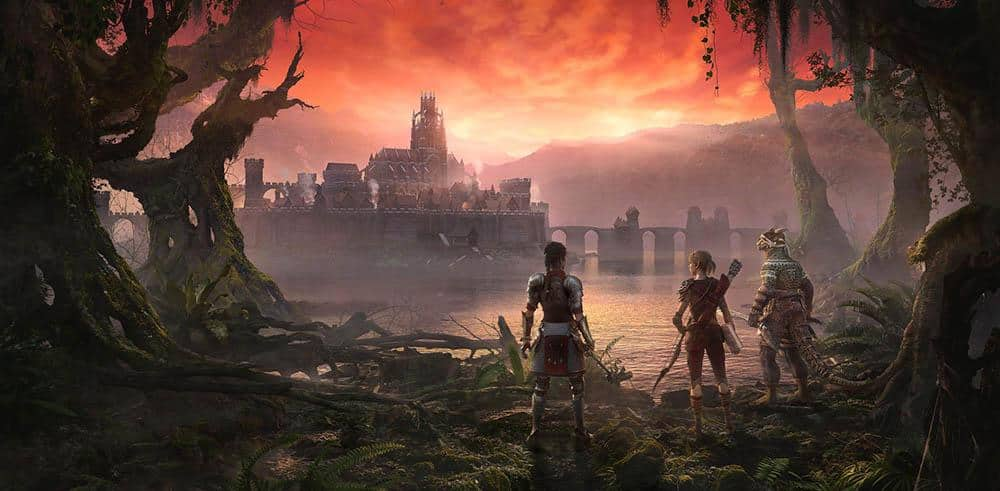 Experience a world on the brink of destruction in The Elder Scrolls Online: Blackwood, a new Chapter in the Elder Scrolls Online saga.
We are happy to announce that The Elder Scrolls Online: Blackwood and Update 30 are both now live on PC/Mac, Stadia, Xbox One, and PlayStation 4, with Xbox Series X|S and PlayStation 5 also available via backwards compatibility.

Blackwood Chapter
The Daedric Prince of Destruction, Mehrunes Dagon, has dire plans for the people of Tamriel, and they begin in the lush marshlands of Blackwood. This new adventure features a complex tale of ambition and revolution that is part of the larger Gates of Oblivion year-long saga that began with the Flames of Ambition DLC in February and continues throughout all of 2021.
In the Blackwood Chapter, you can experience:
A massive new zone to explore: Blackwood
A mysterious new main storyline to unravel of Daedric ambitions and schemes
A new system: Companions
A new 12-player Trial: Rockgrove
A new type of world event: Oblivion Portals
A host of new and unique side quests, stories, characters, and challenges
A selection of new item sets, collectibles, and Achievements
Blackwood Zone
In this new Chapter, you can explore the region of Blackwood, nestled among the swamps of the Black Marsh, the warm sands of Elsweyr, and the rolling hills of Cyrodiil. With a local population made up of Imperials, Argonians, and Khajiit, Blackwood is a unique melting pot of different cultures and peoples. Beyond the high walls of the cities of Leyawiin and Gideon, you'll experience an untamed wilderness filled with ancient sites of long-forgotten empires, dangerous and diverse local creatures, and the rising Daedric threat from realms beyond.
A New Storyline
In the Blackwood Chapter, you must uncover the truth behind the emerging Daedric threat and its connection to the Longhouse Emperors. In this tale of Imperial and Daedric ambitions, what you discover in your adventures in Blackwood will have dire consequences for the people of Tamriel and set up the story for the rest of the year-long Gates of Oblivion saga.
Companions System
With the new Companions system, you'll never have to explore Tamriel alone again. Recruit, equip, and fight with one of two new Companions available with this Chapter and take them to almost every corner of Tamriel. As you battle beside your new Companions, they'll level up and gain new unique skills. In addition, you can increase (or lower) your rapport with your Companions by engaging with them and performing certain actions, allowing you to unlock unique quests and other rewards.
Oblivion Portals
New world events unique to the Chapter, portals to the Deadlands have begun to appear within the wilds of Blackwood. From these doorways to Oblivion, you and your allies can invade Mehrunes Dagon's realm and confront the Daedric hordes that now prepare for war.
Rockgrove Trial
Gather your allies for a new 12-player Trial and defend Rockgrove against the invading Daedric cultists. Contend with the empowered devotees of Mehrunes Dagon and battle your way through the city and into the Deadlands itself. New gear, Achievements, and collectibles await those willing to stand against the forces of the Prince of Destruction!
You can discover and read more about Blackwood on our official site.
Purchase Details & Requirements
The Elder Scrolls Online: Blackwood is available in four editions, including:
The Elder Scrolls Online Collection: Blackwood
The Elder Scrolls Online Collection: Blackwood Collector's Edition
The Elder Scrolls Online: Blackwood Upgrade
The Elder Scrolls Online: Blackwood Upgrade Collector's Edition
If you are a brand-new player, the ESO Collection: Blackwood includes the base game, Blackwood Chapter, and all previous Chapters. If you already own ESO and its previous Chapters, the ESO: Blackwood Upgrade grants you access to the new Chapter. Note that to run Blackwood on PC/Mac, your machine needs to meet the game's requirements here: PC, Mac.
In addition to the Chapter itself, the Collector's Editions also include a selection of unique in-game items, including a pet, mount, outfit style, and more.
Collector's Edition Items
For everything on Blackwood's editions, Collector's Edition items, and more, check out this article.
Getting Started in Blackwood
Once you have access to the Blackwood Chapter, you can travel to the new zone and begin your adventure in the following ways:
By Wayshrine
If you'd like to explore Blackwood with an existing character, you can teleport to the new zone directly via the Leyawiin Outskirts Wayshrine. To do so, simply open your map, select the Blackwood zone, and then select the Leyawiin Outskirts Wayshine icon (it should be the only one active in the zone).
Via the Blackwood Main Quest
You can acquire the Blackwood main quest by navigating to your Collections UI, selecting Stories, and then Chapters. From there, you can select Blackwood and pick up the first quest, titled "A Deadly Secret," to begin. The quest will point you toward where you need to go to make your way to the zone.
Via the Tutorial
You can also travel to Blackwood by creating a new character and completing the new tutorial. At the end of the tutorial experience, you can select Blackwood as your destination zone and get started.
Of course, you can explore Blackwood with an existing or brand-new character, regardless of their level (there's no level requirements for any PvE zone). Adventure awaits!
Update 30
Releasing in tandem with the Blackwood Chapter, Update 30 is a free base-game patch for all ESO players that includes a host of new features, quality-of-life improvements, and fixes—no additional purchase needed!
Console Enhanced
A major leap forward for ESO on current-generation machines, Console Enhanced allows the game to run natively on both the Xbox Series X|S and PlayStation 5, truly harnessing the horsepower of these new consoles and dramatically improving the game's visual fidelity and performance.
A free version of ESO, available for anybody who owns ESO on the Xbox Series X|S or PlayStation 5, Console Enhanced provides the ability to run the game at 60FPS and includes improvements to Draw Distance, textures, antialiasing, reflections, and much more. With this new version, Tamriel has never looked better on consoles!
If you are playing on Xbox Series X|S, the console will automatically download Console Enhanced. If on PlayStation 5, you will need to visit the ESO game hub and download this updated version there. Check out this preview for more on Console Enhanced's many improvements, and you can get a breakdown of the differences between Performance and Fidelity Modes here. Console Enhanced will go live on June 15 for both Xbox Series X|S and PlayStation 5.
Endeavors System
With the new Endeavors system, going live later this month, you can complete daily and weekly tasks to earn a new type of currency, called Seals of Endeavor, used to acquire Crown Crate items. Previously, the only way to own these rare items was by either opening Crown Crates or by spending gems, but with this new system, you can acquire them simply by playing the game. The daily and weekly Endeavors includes all kinds of regular ESO activities such as combat, exploration, questing, crafting, etc., and rewards variable amounts of Seals each day.
View current Endeavors in your Activity Finder
This new system arrives with Update 30, but it won't be active until later in June. Keep an eye out for more information on Endeavors later this month and read more about the new system in this announcement article.
New Tutorial System
Update 30 introduces a brand-new default Tutorial for all ESO players and all versions of the game. Within the mysterious Isle of Balfiera, you must help the mage Norianwe navigate ancient Direnni ruins and investigate the emergence of mysterious portals. Upon completion of the tutorial quest, you can choose where you wish to begin your adventures in Tamriel via a portal room granting access to the starting locations of any of the Chapters you own or any of the starting locations for the three base-game Alliances.
Choose your starting location in the new tutorial experience
Be warned, once you've selected your starting location and entered the portal, you can't go back! For more on the new Tutorial, see this preview article.
Ability Bar Timers
A new addition to your Combat Settings menu, Ability Bar Timers allow you to see a timer over an ability's icon that indicates the remaining duration of its effect. You can enable this timer for both your front and back bars, helping you stay on top of things during ESO's fast-paced combat. These options are set to "off" by default, but you can enable them for both Keyboard and Gamepad within your Settings.
These are, of course, just some of the most notable features coming with Update 30, but you can discover a host of other additions and improvements with this patch, including new Monster Masks, bankable Outfit Style pages, and Master Writ quest assistance. Read all about this and more in our official patch notes.
Oblivion Threatens Tamriel
In The Elder Scrolls Online: Blackwood, the Prince of Destruction has plans for the people of Tamriel, and the minions of Mehrunes Dagon work tirelessly to enact his dread schemes. Explore this wild and dangerous region, investigate the rising Daedric threat, and take on Oblivion itself as you contend with mortal ambitions and otherworldly monsters alike.
To help you face these new challenges, from now until June 10 on PC/Mac and from June 8 until June 22 on consoles, you'll be able respec your Champion Points at no cost! Are you excited to continue or begin your Gates of Oblivion adventure with the Blackwood Chapter? Let us know via Twitter, Instagram, and Facebook!