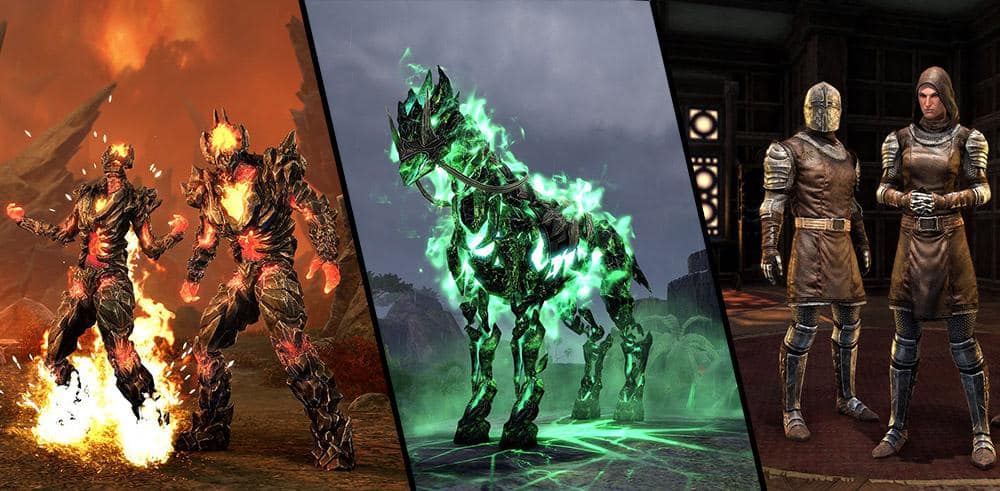 Stand firm against the forces of Mehrunes Dagon with indomitable items found within Iron Atronach Crown Crates, arriving tomorrow with the new Endeavors System! 
Endeavors Arrive
Kicking off tomorrow in tandem with the new Iron Atronach Crown Crate season (Thursday, June 17), the new Endeavors System will be enabled for all ESO players. Once live, you can track and complete Endeavors found within your Activity Finder menu.
Endeavors in the Activity Finder (examples only--actual quests and rewards will vary)
Endeavors are straightforward daily and weekly tasks that can reward basic items (such as gold or experience) in addition to the new Seals of Endeavor currency. This new currency will then allow you to acquire any of the collectibles or items from currently available Crown Crates in the Seals section of the in-game Crown Store. For the first time, you can now earn those rare and exquisite items only found in Crown Crates via in-game activity. For more on Endeavors, check out this announcement article. Have fun!
Iron Atronach Crown Crates
A volcanic realm drifts silently through the void of Oblivion. Impossibly dense and boiling with malice, this molten hellscape produces only one thing in abundance: Iron Atronachs—towering behemoths driven by a relentless appetite for destruction. While few conjurers dare to call upon these titans, those that do gain powerful servants… or a grisly death.
Do you have the strength to tame these colossi? Summon up your iron will and claim these spoils of Oblivion for your own!
Also arriving tomorrow are the Iron Atronach Crown Crates. Within these sturdy storage squares, you'll discover a host of steadfast items and collectibles, ideal for battling the forces of Destruction, that include the following:
Iron Atronach Wolf mount & Iron Atronach Shield style
Iron Atronach polymorph & Knight Aspirant armor styles (individual pieces)
Iron Atronach Crown Crates also have a chance to contain one of these extremely rare mounts:
Sunflare Iron Wolf mount & Viridian Iron Steed mount
Black Forge Iron Senche mount
Finally, these stalwart containers can also include fan-favorite returning Crown Store items, such as:
Morag Tong Splatter Lenses & Brimstone Nixad pet
Of course, this is just a small preview of the unyielding items and collectibles you can acquire when opening these new Crown Crates. You can find a complete list of everything found within the Iron Atronach Crown Crates in this forum post, and don't forget that you can acquire all of these new items with the new Seals of Endeavor currency (although you may need to save some up first).
Begin Your Endeavors
With the introduction of the Endeavors System and Seals of Endeavor, there's a whole new way to get your hands on the latest Crown Crate items. You can also still acquire Crown Crates from the in-game Crown Store by purchasing crowns, too! Are you excited about the new Endeavors System and the Iron Atronach Crown Crates? Let us know via Twitter, Instagram, and Facebook!