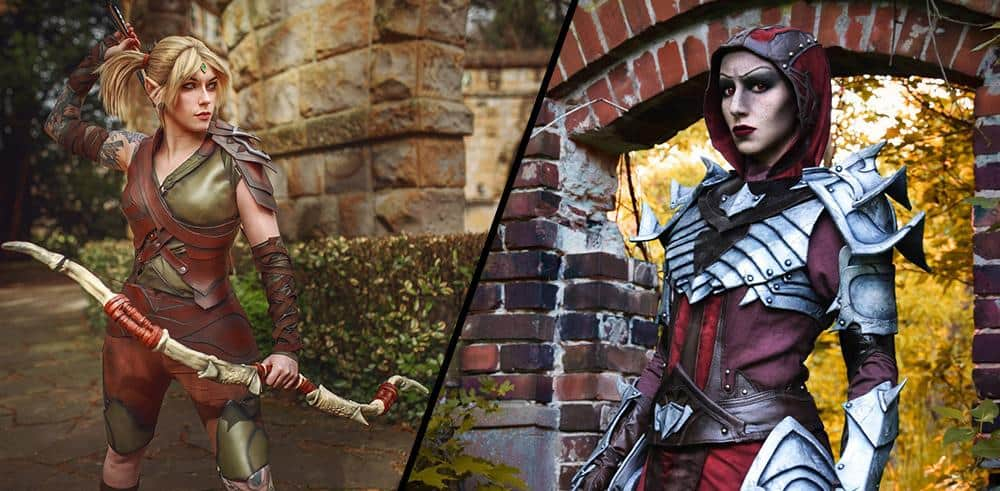 Check out some amazing Lyranth and Eveli Sharp-Arrow costumes from Red Chaos Cosplay and Kim on the Rocks!
To celebrate the release of the new Blackwood Chapter, we were thrilled to work with both Red Chaos Cosplay and Kim on the Rocks (with photography from eosAndy) on the creation of some incredible Blackwood-themed costumes. Check out their amazing creations below and learn a little bit more about these fantastic cosplayers with our Q&A!
Tell us about yourself! How did you get started with cosplay?
Kim on the Rocks: Hey, my name is Kim (Kim on the Rocks) and cosplay is my greatest passion and hobby. Together with my parents, I mainly create costumes from games and bring all kinds of characters to life. I've always liked to dress up and stand in front of the camera. In 2012, I saw cosplayers for the first time at Gamescom and Japan Day in Düsseldorf and was totally fascinated. I started my first cosplay together with my parents at the end of 2013. We watched a lot of videos and looked at books by more experienced cosplayers to find out how to build such a cosplay in the first place.
Red Chaos Cosplay: It's an interesting story! My close friend had a fantasy-themed wedding, and I was her bridesmaid. I decided to make Triss Merigold cosplay for this event, because I'm a redhead and I didn't want to use a wig. Then it just ... happened. I started creating my next costumes and it became addicting.
What was the process for crafting this costume?
Kim on the Rocks: Firstly, I look at as many reference images as possible. I then always write down the individual elements that I can recognize and think about what material I would like to make them from. I usually always work my way from top to bottom and from inside to outside.
Red Chaos Cosplay: We worked on this costume together with Arven's Craft. Firstly, we made the armor patterns using the foil and tape technique, and then we used these patterns to cut the shapes out of foam. Later we created the dress and pinned it on me to achieve the proper shape and length. While already having the dress, we used it as a base to draw shapes of the rest of the robe. Armor was painted and attached by velcro to itself and to the robes.
Make-up was especially challenging, since I needed to get rid of my own eyebrows (using gluestick) and to draw some much angrier and deadlier ones than my natural ones. I also worked on my Dremora skin shade, with super light foundation and some eyeshadows to add the shadows and freckles on my face.
Later, I decided to also make a book as a prop. It's all made out of foam and painted with acrylics, but I put some lights in it to create a magic effect, and I think it's my favorite piece of this cosplay—it lights up!
What kind of materials did you use?
Kim on the Rocks: Here we worked with real leather hides for the first time. The armor elements are made of leather, the sewn parts are made of synthetic leather, and the bow and arrows are real. I redesigned the arch so that it looked like it was out of the game.
Red Chaos Cosplay: The armor is made out of EVA foam and worbla, primed with plastidip and painted with acrylics. We used oil paint to create the shading and put rivets in the right places. The robe under the armor is made of suede and leather and airbrushed to add some depth. Under all of it, there's a linen dress that we dyed to achieve the right color. The book is also made out of EVA foam, primed with wood glue and painted with acrylics, but there's an Oblivion logo cut in the front page and some plexiglass with LED lights shining through it. I painted the plexiglass with yellow, orange, and light-red paint to create the fiery look.
Was there a part of the costume that was especially challenging or fun to craft?
Kim on the Rocks: I found the upper body armor quite interesting because Eveli is asymmetrical. Most of the time armor is symmetrical, but the fact that left and right were different was a challenge. Redesigning the arch was also a lot of fun.
Red Chaos Cosplay: I especially loved airbrushing the robe. Since I've never used that technique before, it was something new and super cool for me! Using black oil paint to add shadows on the armor is also always an amazing experience for me, and I love how it changes from flat, silver pieces of foam into the deep and beautiful end result. 
What was it like to cosplay such a unique Elder Scrolls character?
Kim on the Rocks: Personally, I prefer to cosplay strong / badass characters, so I felt very comfortable in Eveli's skin. I like her design very much and I especially love the bow on the costume!
Red Chaos Cosplay: I've never cosplayed such a unique character before. Usually, I look up cosplayers that have already made a particular costume and find my inspiration there. This time I didn't have that, but I had some amazing reference pictures. It was really challenging, and the make-up was so interesting and intense—I loved it! I think somehow this character suits me perfectly. I have a thing for dark red colors and a lot of armor.
What kind of advice do you have for other cosplayers who wish to create their own ESO costume?
Kim on the Rocks: With ESO costumes, I find it very appropriate to try out new things. There are so many different characters and types that one could portray. There are practically no limits. There is now so much help on the internet through videos and tutorials, and I am happy to help if you have any questions.
Red Chaos Cosplay: Shading makes a lot of difference, so remember that! Other than that, using foil and tape technique to make patterns is always good, no matter if you're just starting, or if you're an experienced cosplayer. Don't be afraid to experiment! I can't count all the fails I've made during my cosplay adventure. It's all part of it :)
Where else can we find your cosplays?
Kim on the Rocks: You can find me here:
Red Chaos Cosplay: You can find more of my cosplays on my Facebook page, Red Chaos Cosplay (https://www.facebook.com/rudychaos) and on Instagram (https://www.instagram.com/redchaoscosplay/).
Thank you to both Kim on the Rocks and Red Chaos Cosplay for crafting these amazing costumes and taking the time to share their stories with us! If you loved what these two talented cosplayers have created here, go check out their links above for more, and you can find both Eveli Sharp-Arrow and Lyranth in The Elder Scrolls Online: Blackwood right now!