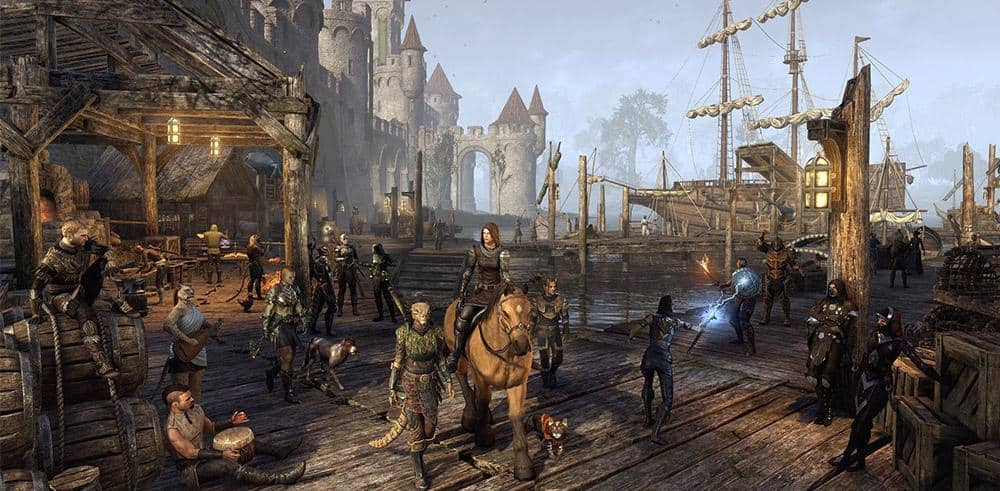 Discover two months of unique livestreams from streamers, developers, and special guests as we showcase and celebrate everything Tamriel has to offer.
The World Plays ESO
The Elder Scrolls Online's Tamriel is an ever-growing world of adventure, filled with dangerous realms to explore, mysterious quests and stories to uncover, a host of unique activities and challenges to overcome, and over 18 million fellow players—it's massive, and it's only getting bigger!
With the recent launch of our fifth Chapter, The Elder Scrolls Online: Blackwood, and the Console Enhanced version of the game, starting tomorrow, June 22 and continuing all the up to QuakeCon 2021 (starting August 19), we're challenging a host of special guests, streamers, developers, and you (the fans!) to livestream ESO over two action-packed months, showcasing absolutely everything the game has to offer new and veteran players alike.
Unlimited Adventures
The World Plays ESO's participants will include our very own Creative Director Rich Lambert, mixed martial artist Robert Whittaker, pro wrestler Nicole Savoy, members of the ESO Stream Team, and many more surprise guests along the way—all incredible ESO fans, ready to take on Tamriel. Keep an eye out for a complete list of all the participants tomorrow when the promotion formally kicks off.
Together, they'll tackle everything from the game's base-game, DLC zones, and Chapter storylines, and activities such as Dungeons, Trials, PvP (Alliance War and Battlegrounds), crafting, Antiquities, Housing, and more. Phew!
We're streaming almost everything you can see and do in the game
Check out the schedule below for our first week of The World Plays ESO streams.

Tamriel All Together
Tune in to any of the streams, and you could pick up some fantastic in-game goodies that our participants will be giving away during their shows, including game codes for the latest Blackwood Chapter, collectibles such as the Pink Torchbug pet, and more.
You could win this pet or the Blackwood Chapter by watching!
Of course, we can't celebrate everything ESO without involving our players and community, so we're also inviting you to share your own adventures as we showcase the game's different zones, activities, and challenges on Twitter and Facebook using the #WorldPlaysESO hashtag. Share your stories with us, and we'll share your trials and triumphs with the rest of the #ESOFam.
18 Million Strong & Growing
Over 18 million adventurers have begun their adventures in ESO, exploring almost every part of Tamriel and worlds beyond. We're so excited to celebrate everything ESO has to offer with this massive new global celebration, and we can't wait to see our streamers dive into the ever-growing, ever-surprising world of Tamriel. For information on the latest streams and World Plays ESO news, visit the official website using the button below.
Finally, don't forget to share your own adventures with us using the #WorldPlaysESO hashtag on Twitter, Instagram, and Facebook—we'll see you in Tamriel!
Beginning Tuesday, June 22, and continuing until QuakeCon 2021 on August 19, The World Plays ESO is a massive celebration of everything you can experience in The Elder Scrolls Online, shared via a non-stop series of livestreams hosted by developers, special guests, and Stream Team members.