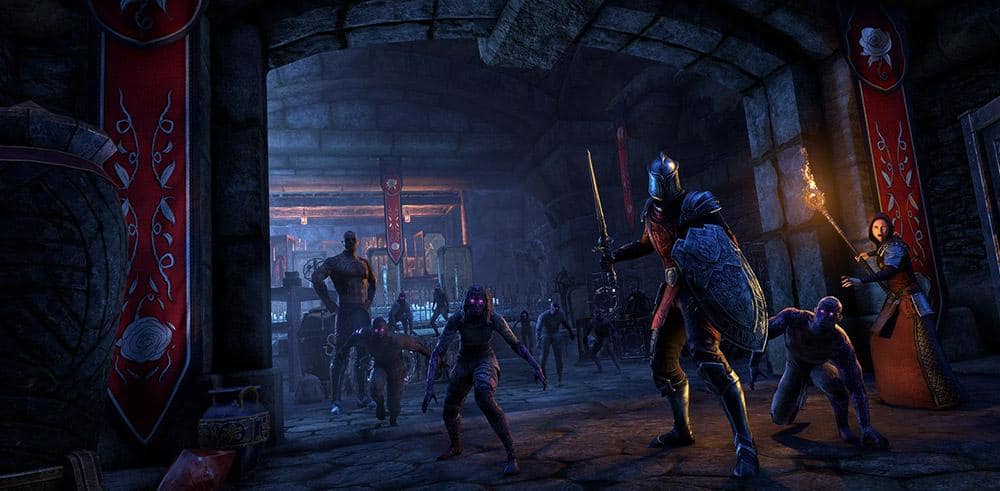 Get your first look this Friday at the two new dungeons arriving with the upcoming Waking Flame DLC on Twitch.tv/Bethesda!
Tune in to ESO Live on Twitch.tv/Bethesda this Friday, July 9 at 6PM EDT, as Community Managers Jess Folsom and Gina Bruno are joined by Encounters Lead Mike Finnigan to preview the latest adventure in the Gates of Oblivion saga: The Elder Scrolls Online: Waking Flame.
Together, they'll delve into both Waking Flame dungeons, talk about the settings and stories (without spoilers!), showcase the rewards, and preview some of the challenges you and your party will face when this DLC launches later this year.
They'll also talk about the latest ESO news, discuss The World Plays ESO promotion, and host a giveaway. Be sure to link your accounts for the opportunity to also earn Twitch Drops! This first-look preview show will go live on Twitch.tv/Bethesda this coming Friday, July 9 at 6PM EDT. Don't forget to stick around after the show to see MMA champion Robert Whittaker and a crack team of ESO developers take on one of Tamriel's dungeons for a special The World Plays ESO stream.
ESO Live is your official Elder Scrolls Online stream, hosted on Twitch.tv/Bethesda by ESO's Community Manager Gina Bruno and Senior Community Manager Jess Folsom.