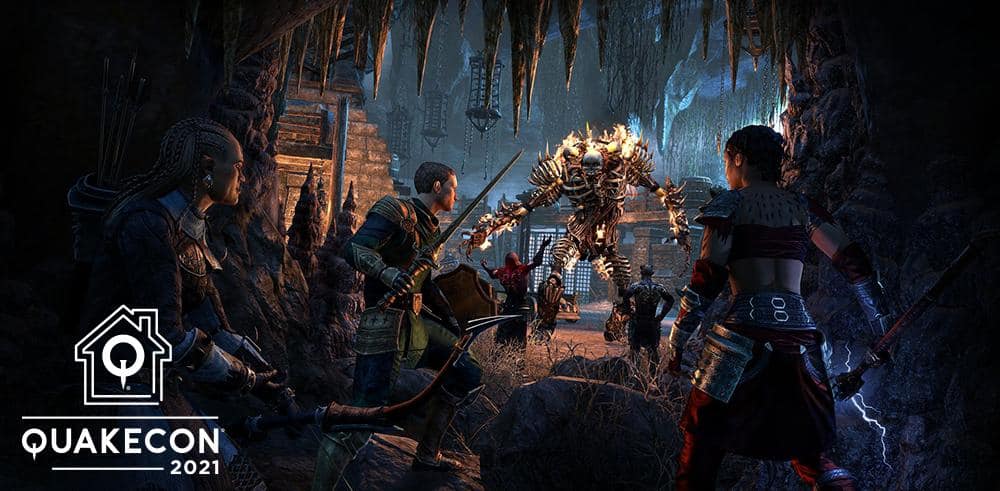 Discover all the ESO-related livestreams and news coming soon when QuakeCon 2021 kicks off next week.
QuakeCon 2021 begins next Thursday, August 19, on Twitch.tv/Bethesda, and we have a host of incredible ESO livestreams for you to check out during the classic convention and event.
Thursday, August 19
Inside the Award-Winning The Elder Scrolls Online with ZeniMax Online Studios
Learn more about ESO, Console Enhanced, and the upcoming Waking Flame DLC with a special show from Studio Head Matt Firor, Creative Director Rich Lambert, and Community Managers Gina Bruno and Jessica Folsom. During the stream, you'll discover all the different ways to play ESO, get a peek at what is on the horizon, and learn about a brand-new promotion that'll be music to your ears!
Friday, August 20
Dungeon Speed Run Competition
Community Managers Gina Bruno and Jessica Folsom are joined by Encounters Lead Mike Finnigan to host a dungeon speed run between two all-star teams!
Cheer our North American or European teams as they race to complete the Black Drake Villa dungeon on Veteran Hard Mode difficulty, with the winning team members receiving the incredible HERO Series The Elder Scrolls Online Edition gaming chair from NobleChairs!

Here's our two all-star teams:
#ESOTeamNA
NefasQS—Tank
RogueDragon15—DPS
MemeDankExtra—DPS
Kodiak709—DPS
#ESOTeamEU
david0001—Tank
Olibeau—DPS
olulu—DPS
WarfireX—DPS
Be sure to cheer your team using the #ESOTeamNA or #ESOTeamEU hashtags on Twitter!
Eurogamer ES Roundtable - The Elder Scrolls Online: Past, Present and Future (Spain)
In this panel talk, the Eurogamer ES will be discussing the past, present and future of The Elder Scrolls Online.
Fun and Challenges in The Elder Scrolls: Blackwood (Nordics)
Join Swedish streamers Michu QueenE, ItsNatashaFFS and Valter Skarsgård as they play The Elder Scrolls: Blackwood, taking on public events and completing challenges!

ESO Stream with IGN (Middle East)
Join IGN ME this Friday at 12 PM for a dedicated I stream! Codes and merch could be yours, so come prepared!
When: Friday, August 20 at 11:00AM EDT
Where: IGN ME
ESO Quakecon Special: Endeavors and Costumes (Turkey)
LoveThyMonster will explain how the Endeavors system works and show off the different tools ESO provides to create cool costumes in game.
The Elder Scrolls Online - Makeup Tutorial with BealienQueen (Spain)
BealienQueen, a Spanish makeup artist well-known for her transformations into videogame, comic and anime characters, will be streaming a makeup tutorial based on The Elder Scrolls Online's original characters!

Saturday, August 21
The Elder Scrolls Online - Mates of Oblivion Dungeon Runs
The ANZ Mates of Oblivion team are delving into their favorite ESO dungeons!
The Elder Scrolls Online - MissMollyMakes an Epic Banquet
Can Miss Molly Makes cook up an epic ESO banquet in under 2-hours? Come check it out!
Live Art Creation
Community Manager Gina Bruno is joined by Art Director CJ Grebb and Concept Artist Mike May for a special ESO art stream.
Learn about what goes into producing art for The Elder Scrolls Online as the team discusses and showcases last year's art piece and some more-recent fan-made illustrations.
Finally, throughout the whole stream, Mike will produce a new illustration of a unique Daedric beast that incorporates your live feedback!
ESO Quakecon Special: Dungeon Runs (Turkey)
The Elder Scrolls aficionado Emin Çıtak will take on some of Tamriel's dungeons in this ESO livestream.
ESO Trials with Friends of the Show (BLX)
Community Manager Julian Eriks and PR Manager Linda Wijnen join regular guests Saar and Chief, to work their way through ESO: Blackwood. Come join us!
The Elder Scrolls Online - Through Flames of Ambition with the UK Stream Team
Have you been to Black Drake Villa yet? Want to see it completed and have a chance to affect the difficulty via charitable donations? Bethesda UK Community Manager Ophelia once again teams up with our Stream Team members Dawnwhisper, kayPOWXD and Xynode to discover the secrets of the Villa.
ESO: Poland Plays ESO…Together! (Poland)
A special episode of our ongoing Poland Plays ESO campaign! Join our community leaders as we form spontaneous groups and take on various pre-selected challenges, including delves, dungeons or even the 12-player Rockgrove trial.
Exploring Blackwood and the Latest ESO News (Italy)
ESO Italia and Multiplayer.it delve into the new Blackwood Chapter and discuss the latest Elder Scrolls Online news!
The Elder Scrolls Online: Housing Escape Game (France)
Community Managers Geoffrey Chapron and Sanda Mauri are joined by Stream Team members Artésio and Desastre for a housing escape game session.
ESO Cooking Show with Rikkuras (Spain)
Rikkuras will be streaming how-to-cook an Elder Scrolls Online recipe from the official cookbook. Let's cook together!
ESO Nordic Guilds Unite! (Nordics)
Bethesda Community Manager Anna catches us with Guildmasters Charna (The Danish Guild), Kristallkrona (Fragzone), and Edenprime (Dragonborn Inc) from the Nordic ESO community.

Drops, Giveaways, & More!
All of the above streams will also have Twitch Drops enabled, which include a Flame Atronach Wolf pet and one Ouroboros Crown Crate.
In addition to this, our Dungeon Speed Run and Live Art streams will also have specials giveaways, including the chance to win a custom Mehrunes Dagon controller from WeAreRobots and a massive prize package from Razer featuring the following items:
Razer Huntsman Mini Gaming Keyboard with Clicky Optical Switch
Razer Viper Ultimate Gaming Mouse with Charging Dock
Razer BlackShark V2 Pro Wireless Headset
Razer Gigantus V2 Mouse Mat
Razer Base Station V2 Chroma Headset Stand USB Hub
Razer Sneki Sneki Plushie
Finally, throughout the Dungeon Speed Run and Live Art streams, we'll also be supporting some amazing organizations with charity drives, too, so help us help some amazing causes!
Phew! As you can see, it's going to be a packed three days, so if you're interested in the future of The Elder Scrolls Online, wish to cheer on some top-tier PvE action, or want to see some beautiful artwork crafted live, be sure check out ESO at QuakeCon, and don't forget to check out everything coming to the big event on Bethesda.net!