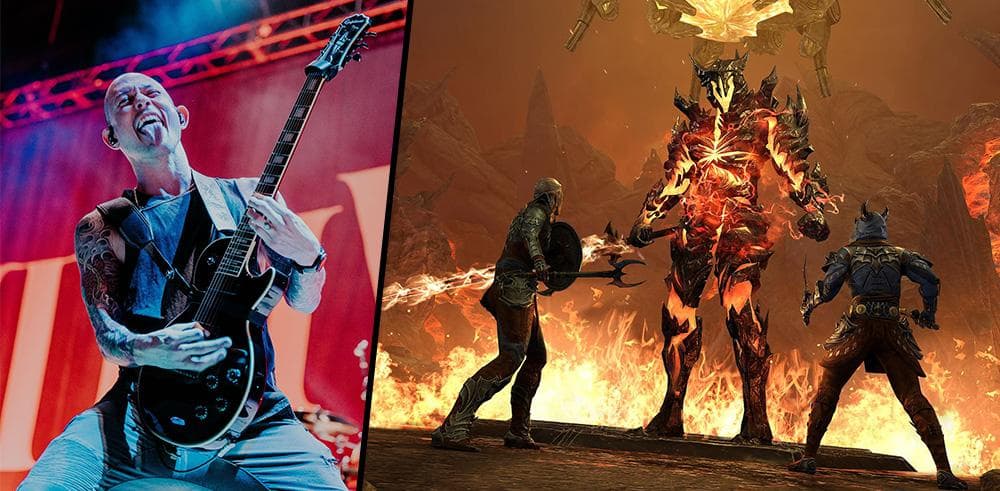 ESO's Audio Director Brad Derrick and Trivium's lead vocalist Matt Heafy join the team to talk about their love of music, ESO, and how the two have been combined.
Tune in to ESO Live on Twitch.tv/Bethesda this Friday, October 29 at 3PM EDT, as Community Managers Jess Folsom and Gina Bruno host Matt Heafy, the lead vocalist and guitarist for heavy metal band Trivium, and Brad Derrick, ESO's Audio Director, to talk all things related to both the video game and music industries.
Together they'll discuss their combined love of gaming and music, their history with the Elder Scrolls, and their experience working together during an ongoing partnership that has already inspired the music video for their newest single, The Phalanx, and this amazing bard song:
The team will also discuss the latest ESO news (Deadlands is right around the corner) and give away some incredible loot throughout the stream. Twitch Drops will also be enabled, so don't forget to link your account! This ESO Live will Daedrock out Friday, October 29 at 3PM EDT, on Twitch.tv/Bethesda—we'll see you there!
ESO Live is your official Elder Scrolls Online stream, hosted on Twitch.tv/Bethesda by ESO's Community Manager Gina Bruno and Senior Community Manager Jess Folsom. Photo by Sarah Dope.