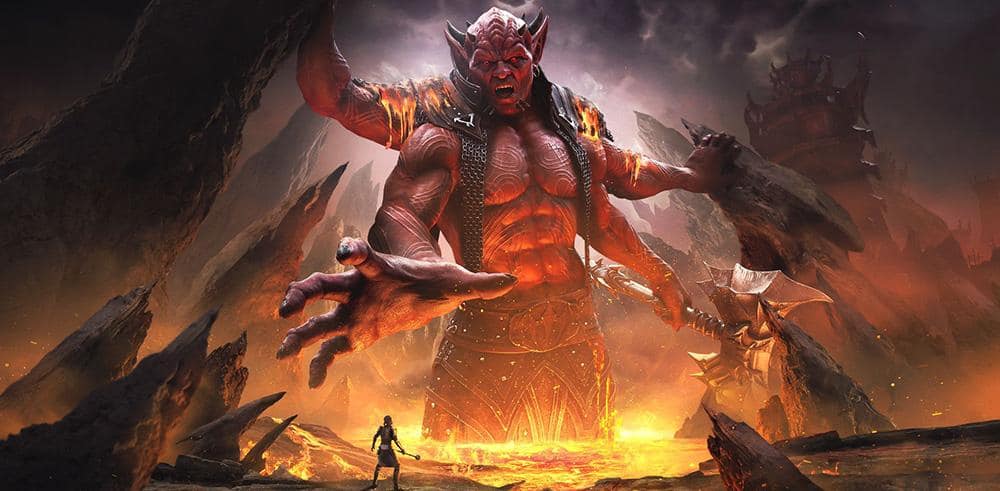 Experience the cataclysmic conclusion to the Gates of Oblivion adventure in The Elder Scrolls Online: Deadlands and Update 32.
The Elder Scrolls Online: Deadlands and Update 32 base game patch are now live on PC/Mac, Stadia, Xbox One, Xbox Series X|S, PlayStation 4, and PlayStation 5.

The Elder Scrolls Online: Deadlands
Mehrunes Dagon's plans for Nirn in the Blackwood Chapter were not thwarted, only delayed, and now Tamriel's heroes must face the Daedric Prince of Destruction within his own realm. The final part of the year-long Gates of Oblivion adventure, Deadlands concludes the exciting saga of ambition and destruction that began with the Flames of Ambition DLC in February.
A Gates of Oblivion Story
In this story DLC, you can explore Dagon's plane of Oblivion and the mysterious city of Fargrave while unraveling the Daedric Prince's ultimate plans for Nirn and the people of Tamriel. In your adventures, you'll experience tales and locations that showcase the life and society of those who call Oblivion home and be challenged by all-new encounters and threats.
The Daedric Prince of Destruction awaits
While featuring a unique, standalone storyline, Deadlands also contains three bonus quests that are only unlocked if you complete the Blackwood and Deadlands main questlines first. During these exclusive quests, you'll finally have your opportunity to confront Mehrunes Dagon himself and put a stop to his dread plans … for now.
Deadlands Zone & Fargrave
Chaotic, perilous, and unrelenting, Dagon's realm of Oblivion is a dangerous world where only the strong survive. In this new zone, you can venture into the regions known as the Burn and Sever, two equally volatile aspects of the Daedric Prince made manifest.
Explore two unique biomes in the Deadlands
When exploring the Deadlands, you'll encounter the vicious followers of Dagon and those few who've eked out an existence in this hellscape. With new delves to investigate, world bosses to vanquish, and a host of stories to experience, the Deadlands is a world unlike any other in The Elder Scrolls Online. Luckily for you, you can find refuge beyond Dagon's reach.
A player hub and "safe haven" in a realm between realms, the mysterious city of Fargrave is home to both mortal and Daedric residents alike, living and working in relative harmony. This bizarre city serves as the base of your operations as you explore and continue your adventures.
Fargrave, home to mortals and Daedra alike
In Fargrave, you'll encounter new allies, such as the heroic Anchorite or mysterious Madam Whim, and learn more about those who call Oblivion home. Check out our recent previews on the zone and stories for more on the kind of experience waiting for you in the Deadlands.
New Challenges and Rewards
As you quest and explore in both the Deadlands zone and Fargrave, you'll find no shortage of new challenges to overcome, including the patrolling Havocrel Executioners, hulking giants who walk Dagon's realm in search of outsiders and require large groups to vanquish.
Dagon's most-fearsome warriors guard his realm
This zone also includes a host of stand-alone quests to complete, memorable characters to encounter, and a series of unique rewards that include item sets (three crafted and three zone), Oblivion-touched collectibles, and Achievements—a bounty of loot and glory for those willing to set foot in Dagon's realm.
How Do I Get the Deadlands?
The Deadlands DLC is free for all ESO Plus™ members and available for purchase for 2,000 crowns from the in-game Crown Store (listed under DLC). Note that if your ESO Plus membership lapses, you will lose access to the DLC until you renew or purchase the DLC with crowns, but you won't lose any items or progress you earned while you had access.
The Deadlands Collector's Bundle
Releasing in tandem with the base DLC, the Deadlands Collector's Bundle is also available in the in-game Crown Store for 4,000 crowns and includes the Nightmare Bear mount, the Deadlands Bantam Guar pet, and Crown Experience Scrolls. You can find the Deadlands Collector's Bundle in the Featured section of the Crown Store.
Getting Started in the Deadlands
When you have access to the Deadlands DLC, you can begin your exploration of this volatile part of Oblivion by the following methods:
By teleporting directly to the Fargrave Outskirts wayshrine from your map
By using the DLC tab of your Collections UI and accepting the "The Celestial Palanquin" quest from the Zone DLC section
Once you set foot in Dagon's realm, you can explore the new zone (including Fargrave), begin the DLC's storyline, or simply explore—it's up to you! The first time you enter the zone, you'll receive the Oblivion Explorer's Headwrap collectible completely free as a bonus reward.
Prepare to explore Oblivion
Update 32 Base-Game Patch
Also releasing alongside the DLC is the Update 32 base-game patch. This free update for all existing ESO players includes a host of new features, bug fixes, and improvements.
Armory System
Designed to help you effortlessly switch builds, the new Armory System allows you to quickly swap a character's attributes, abilities, items, Champion Points, and more. With the Armory Station (free from the in-game Crown Store) you can set, equip, and organize your character's builds from the comfort of your home.
Change your builds quickly with the Armory System
With this system, you can engage in different activities more-easily and reduce the amount of time spent re-customizing your character. In addition to the free Armory Station, you can also acquire an Armory Assistant from the in-game Crown Store for crowns and purchase additional Armory Slots, too (you always start with two for free).
Curated Item Set Drops
Part of an ongoing effort to reduce the amount of grind required to collect ESO's many powerful sets, Update 32 also introduces a curation system that changes the way items drop. Now, when you defeat a monster, the system attempts to drop set items that you don't already have in your collection.
With this change, you can more quickly complete your set collections and perfect your builds, dramatically reducing the amount of frustration that comes when hunting specific item set rewards. Note that some drops will remain completely randomized (such as those found in dungeon chests or items tied to specific bosses). You can find more on curated drops and the Armory System in our preview article—happy item hunting!
For everything arriving with Update 32, check out the patch notes section on our official forums.
Bring Destruction to the Deadlands
The Gates of Oblivion year-long saga ends in fire with The Elder Scrolls Online: Deadlands, and it's time to take the fight to Mehrunes Dagon himself and explore one of the most inhospitable and dangerous realms of Oblivion. Are you ready and willing to battle the Prince of Destruction's forces on his home turf? Are you looking forward to the incredible new features arriving free as part of Update 32? Let us know via Twitter, Instagram, and Facebook.
The Dark Heart of Skyrim epic concludes with the Deadlands DLC game pack and Update 32, now available for PC/Mac, Stadia, Xbox One, Xbox Series X|S, PlayStation®4, and PlayStation®5.